Volvo Vehicle Platoons
The project aims to encourage a step change in personal transport usage by developing of environmental road trains called platoons.
Systems will be developed facilitating the safe adoption of road trains on un-modified public highways with interaction with other traffic.
A scheme will be developed whereby a lead vehicle with a professional driver will take responsibility for a platoon. Following vehicles will enter a semi-autonomous control mode that allows the driver of the following vehicle to do other things that would normally be prohibited for reasons of safety; for example, operate a phone, reading a book or watching a movie.
Mercedes-Benz's Future Truck

The Mercedes-Benz Future Truck 2025's with his "Highway Pilot" system a consistent and realistic response to the current development – it communicates with its surroundings and drives autonomously. Autonomous driving carries through the more homogeneous traffic flow helps to reduce fuel consumption and emissions significantly. Transport times are calculable. The aggregates of the trucks involved are protected by the uniform driving style. Autonomous driving is a "Can" feature – the driver is at all times free to decide to control the truck itself or to leave this to the art.
Peloton Truck Platoons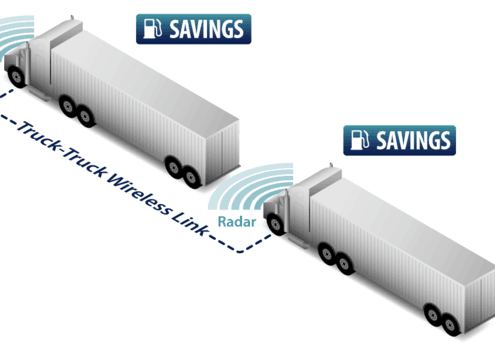 Peloton is an automated vehicle technology company that utilizes vehicle-to-vehicle communications and radar-based active braking systems, combined with sophisticated vehicle control algorithms, to link pairs of heavy trucks. The safety systems are always active, and when the trucks are out on the open road, they can form close-formation platoons. The system controls braking and acceleration, similar to adaptive cruise control, and drivers remain fully engaged and retain steering control. The dramatic reduction in aerodynamic drag in these platoons provides unprecedented fuel economy savings for both the trailing and the leading truck. A real-time video link lets the rear driver see the road ahead of the platoon. The more extensive data flowing from the trucks also allows new levels of diagnostics and prognostics, while empowering better drivers and stronger fleet management.
Intercity Lines Enclosed Auto Transport is staying ahead of the curve as technology advances. We offer a full range of nationwide enclosed auto transport services, using the latest in auto transport technology and safety standards. Including building our enclosed car carriers in house at our Intercity Lines Garage. We are committed to staying up to date on the latest trucking trends including green trucking and autonomous safety features.