Shipping Your Car in The Summer Versus the Winter
Everybody purchases vehicles year round; in fact, just a few years ago, roughly two out of three auto show attendees were in the market to buy a car within the next year. Once people purchase their cars, however, they need to transport them to their new homes if they have a long trip to get there. Transportation conditions vary throughout the year, so recognizing how the weather affects your vehicle (and your wallet) can help you better decide when you should ship. Below, we explain the differences between shipping your car in the summer versus the winter.
Shipping your car in the summer is more expensive because there's a higher demand during the warmer months. Think about it: families want to move when it's nice out, and snowbirds are returning home after their time in tropical weather. In addition, there are a lot of car events across the nation that car carriers service including the Pebble Beach Car Week, which nearly all major enclosed carriers attend. If you want your vehicle quickly, be prepared to pay more because there may be limited space on carriers. Typically, cars move easily during this time, though cars won't ship as fast during holidays like the 4th of July. If you don't want to face the rush, it may be in your best interest to wait until fall. The weather will still be mild, and prices may decrease once summer is over.
Shipping your vehicle in the winter typically will cost less than it would in the summer as it tends to be a slower period for auto transport companies. This is why it's smart for price-conscious shippers to ship their car during the winter. An exception is regions that experience hazardous winter conditions. This winter weather can slow down traffic and even close roads, so carriers may charge more to go to these regions. Expect longer wait times as well due to these winter delays. Even if you live in a warmer climate, the car carrier may pass through multiple cold regions in route to your house.
Read more tips on shipping a car!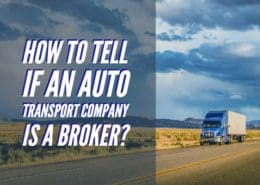 https://intercitylines.com/wp-content/uploads/2019/09/How-to-Tell-if-an-Auto-Transport-Company-is-a-Broker_.jpg
400
712
Intercity Lines
https://intercitylines.com/wp-content/uploads/2016/07/intercity-lines-inc-enclosed-auto-transport.png
Intercity Lines
2019-09-19 11:59:45
2019-09-21 22:08:25
How to Tell if an Auto Transport Company is a Broker?