Car Show Tips: Preparation and Displaying
Getting a car to display at a show is no small affair. A lot of time and effort goes into getting a car show ready, no matter what kind it is. Classic and exotic car owners are proud of what they have and like to show it off to other car people. They always want it looking great, especially if they intend to sell it. No one wants to buy a car that looks less than amazing. The same car will sell for less money if it is dirty and beat-up.?Car show preparation and displaying?is serious business, so read some quick tips on how to do it right.
Detailed Cleaning
A car show is all about presentation, and presentation is all in the details. Running your car through the car wash isn?t going to be enough for a show. You can try to do it yourself, but the best way is to hire a professional. There are pros that clean nooks and crannies you didn?t even know someone would look at.
Touch It Up
After detailing the car, it?s looking shiny and new, so be ready for anything. Smudges and smears can come from anywhere and happen at any time. If the show is outdoors, all bets are off. A freak storm can blow through and leave water marks on the paint. Don?t forget the flying menace that is the bane of car owners everywhere. There are birds overhead that can make your life miserable. Always have a touch-up kit with you to clean up any accidents.
Clean the Tires
The tires on a show car set the tone for the entire car. They must be clean, shiny, and scuff-free. Don?t underestimate the importance of the tires?and not just how clean they are. Tires that have poor tread will never score well with the judges. Your car will be compared to the competitors in your class, so consider buying a set of show tires if you plan on showing your car often.
Clean the Glass
This should be done during the detailing, but double-check that the glass is spotless at the show. Dirty windows are a no-no in the car show world. Don?t forget the inside, either. The windows? exterior gets a lot of attention and can often be cleaner than the inside. Regular glass cleaner is enough to give them a once over before showtime. Clean them once, let them dry, and hit them again. Make sure there are no streaks or leftover lint.
Gather Auto Literature
People that attend car shows like to know about the car you are displaying. Gather any literature you have about your car and bring it with. Original advertisements or brochures about the car are a nice touch and give the viewer a better idea about how it ended up in a show. Classic shop manuals are also cool to display. There are gearheads at car shows that will pick up and read all that stuff; it?s what they do, after all.
Make Your Sign
The car will be center stage and will speak for itself. Most attendees at a car show will know what make, model, and year your car is by looking at it. They are at the show because they are car enthusiasts and they know such things. For everyone else, it?s good to have a sign next to your car. Tell everyone what you want them to know about your car: make, model, year, owner, and maybe some awards. Still, keep it simple and clean. Don?t overdo it and distract from the car.
Ship It
Now that the car has been serviced and detailed, it?s time to get it to the show. If you are going to a local show and are comfortable doing so, drive it. Using a classic and?exotic car shipping company?is the best option for transporting your car long distance. They have enclosed trailers with elevators for loading and unloading your car. Shipping the car will keep miles off the car and protect it from road grime and debris that can damage the finish.
Present the Car Pristinely
It?s the day of the show: the car has arrived in pristine condition and looks just how it did the last time you saw it. After unloading the car and rolling it into place, it?s time for some touch-ups. There may be fingerprints or smudges here and there, so clean them. Now that the car is looking its absolute best and is on the mark, it?s time to show.
Provide an Interactive Experience
The car is the center of attention; that?s why people are there. Nonetheless, give them something to look at alongside the car. You brought those original advertisements and brochures for a reason. Set up a table next to the car to display the information. If you have pictures of the original car and the restoration, put those out too. Display anything that will help the audience better understand your car and the work that went into restoring it.
Display the Vehicle
There?s a lot to work with when it comes to displaying the car. It mainly comes down to personal preference. It?s your car, and you know how best to show it off. You will definitely want to open the hood so everyone can see the motor. You can open the doors and trunk, or take the top down if it?s a convertible. Park the car at an angle in the stall if there is enough room; it will set your ride apart from the rest. Show the judges you are legit and put some mirrors on the ground so they can see you cleaned the undercarriage.
Enjoy It
A lot of hard work went into the car. Sweat and money went towards restoring the car and getting show ready, not to mention prepping it on the day of the actual show. Detailing costs, transportation costs, and stress about keeping it safe and clean are all factors. Now is the time to relax and enjoy the show. Have a good time showing off your hard work, check out the other cars, and talk shop with the other gearheads.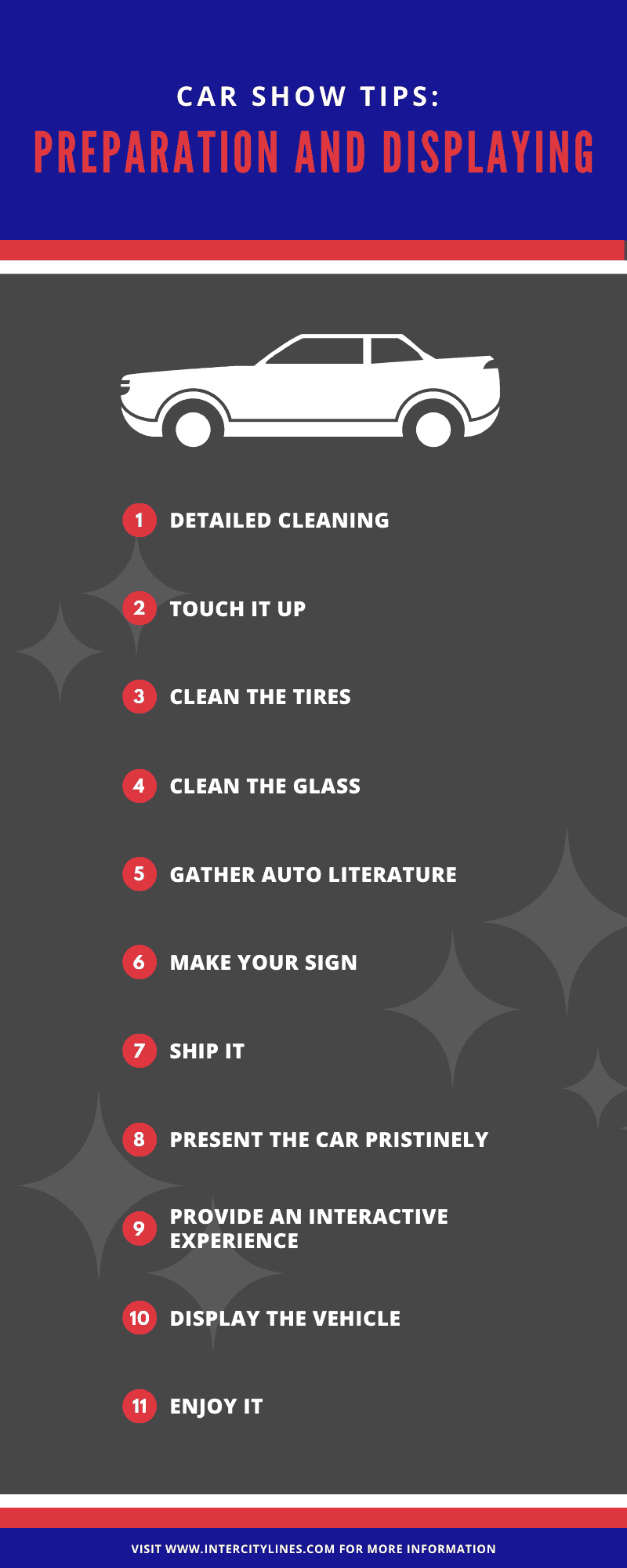 Read more car transport tips and guides